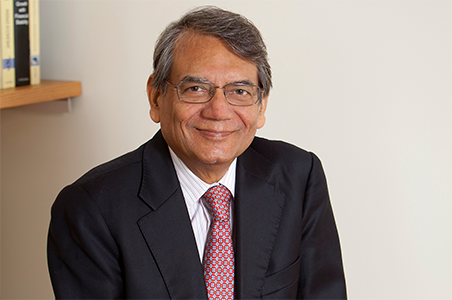 Shri. Rakesh Mohan
Part-Time Member
Rakesh Mohan is President and Distinguished Fellow of the Centre for Social and Economic Progress (CSEP), New Delhi, India, formerly Brookings India.
Dr Rakesh Mohan was Senior Fellow in the Jackson Institute for Global Affairs, Yale University and was earlier Professor in the Practice of International Economics and Finance at the School of Management at Yale University, 2Ol0-12. He has also served as Distinguished Consulting Professor at Stanford University in 2009. Mohan was also a Distinguished Fellow with Brookings India.
He was closely associated with the Indian economic reforms process from the late ig8os onwards. He was Executive Director on the Board of the International Monetary Fund, Deputy Governor of the Reserve Bank of India, Secretary, Economic Affairs, and Chief Economic Adviser of the Indian Ministry of Finance, and Economic Adviser in the Ministry of Industry.
He was also Chairman of Government committees that produced influential reports on infrastructure: The Indie Infrastructure Report (1996), The Indian Railways Report (2001) and The India Transport Report (2014)
After the Great Financial Crisis, he co-chaired the Geo Working Group "Enhoncing Sound Regulation ond Strengthening Transparency" (2009). and the CGFS/BIS Working Group on "Capital Flows rind Emerging Market Economies" (2009)
He has authored three books on urban economics and urban development; two on monetary policy: 'Monetary Policy in o Globalized Economy: A Practitioner's View' (2009). and "Growth with Financial Stability: Central Banking in an Emerging Market". His most recent book (edited) is "India Transformed: 25 Years of Economic Reforms"
He has a BSc (Eng) from Imperial College of Science and Technology, University of London (1969), a BA from Yale University (1971) and an MA and Ph.D. in economics from Princeton University