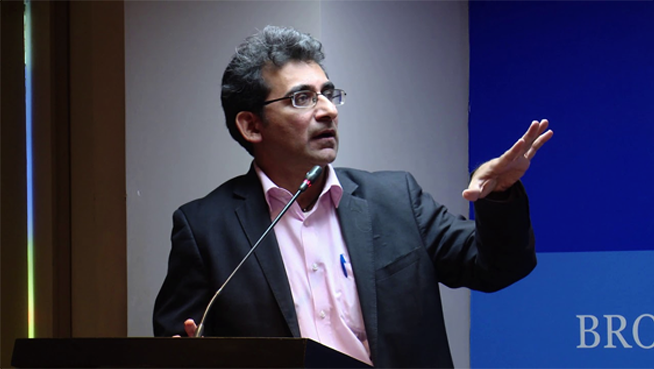 Dr. Sajjid Z. Chinoy
Part-Time Member
Dr. Sajjid Z. Chinoy is Managing Director and Chief India Economist at J.P. Morgan, where he has been since 2010. He is also currently serving a second term as part-time member of the Economic Advisory Council to the Prime Minister (EAC-PM).
Dr. Chinoy previously served on the Advisory Council to India's 15'h Finance Commission, and was a member of the "Expert Committee to Revise and Strengthen the Monetary Policy Framework" set up by the Reserve Bank of India in 2013, which proposed inflation targeting. He has served on other RBI committees including Offshore Rupee Markets and Developing a Secondary Market for Corporate Loans. In 2016, he served as a consultant to the FRBM Review Committee which proposed a new fiscal anchor for India.
Dr. Chinoy has been ranked as one of India's Best Fixed Income Researchers by Asset Magazine for every year since 2013, and was awarded the1. P. Morgan Excellence Award for Value Creation in 2011. He has co-edited a book, "India's External, Financial and Fiscal Polices" with Dr. Anne O. Krueger, former First Deputy Managing Director of the IMF. His research has been published in several books, conference volumes, IMF and RBI working papers, and in journals including the Journal of International Economics.
Dr. Chinoy has previously worked at the IMF and McKinsey & Company. He received his Ph.D. at Stanford University. His dissertation won the EXIM Bank award for the best dissertation by an Indian national for 2001.
Dr. Chinoy received his Bachelor' s degree in Economics and Computer Science at the University of Richmond, Virginia, where he stood first in his batch of 660 students. Awards he received included the
C.J. Gray Award for Outstanding Leadership and Scholarship, the Oldham Scholarship, Phi Beta Kappa, the Kent Computer Science Award, the Omicron Delta Kappa National Fellowship, and the Golden Key National Scholar award for 1996, awarded to five students annually in the United States. He was chosen as the student commencement speaker at his graduation ceremony in 1996, and his speech was published in the Art of Public Speaking, by Stephen Lucas.